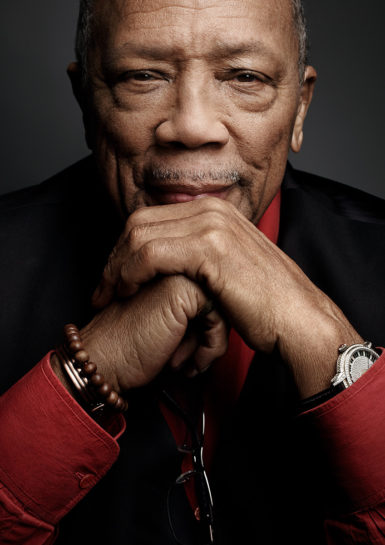 Well Damn Q! Quincy Jones Unedited
Photograph by Art Streiber / AUGUST
When I took my lunch break at work today I did not anticipate reading that Quincy Jones went on a date with Ivanka Trump, or that Marlon Brando had sex with Richard Pryor and Marvin Gaye.  I did not anticipate it, but I read it, and even read some corroborating stories.
Quincy Jones sat down with David Marchese of Vulture Magazine and spilled the beans.  Half of Jones' quotes in the article begin with "I shouldn't be saying this in public, but", and then he would proceed to say something the subject of the quote would probably want kept private.
This article showed Jones in a different light than I and many other are used to seeing him.  He's usually conducting music at an awards show looking almost regal, or he's humbly accepting a reward for some lifetime musical achievement.  The Quincy Jones in this interview reminded readers that he has not forgot where he came from.  Jones grew up dirt poor and hard, and the interview showed the reader he's still hard at his core.
Some of the roughness the music displayed can probably be attributed to the fact that he'll be 85 this year and he's reached a point where he really doesn't give a f*ck anymore.  He's got all the money, respect, ,and accolades he needs, no real reason to hold back.  As long as he's being honest and true, people may be mad he spilled personal secrets, but we really can't take anything from him.

In both music and manner, Quincy Jones has always registered — from afar, anyway — as smooth, sophisticated, and impeccably well-connected. (That's what earning 28 Grammy awards and co-producing Michael Jackson's biggest-selling albums will do.) But in person, the 84-year-old music-industry macher is far spikier and more complicated. "All I've ever done is tell the truth," says Jones, seated on a couch in his palatial Bel Air home, and about to dish some outrageous gossip. "I've got nothing to be scared of, man."

Currently in the midst of an extended victory lap ahead of his turning 85 in March — a Netflix documentary and a CBS special hosted by Oprah Winfrey are on the horizon — Jones, dressed in a loose sweater, dark slacks, and a jaunty scarf, talks like he has nothing to lose. He name-drops, he scolds, he praises, and he tells (and retells) stories about his very famous friends. Even when his words are harsh, he says them with an enveloping charm, frequently leaning over for fist bumps and to tap me on the knee. "The experiences I've had!" he says, shaking his head in wonder. "You almost can't believe it."

You worked with Michael Jackson more than anyone he wasn't related to. What's something people don't understand about him?I hate to get into this publicly, but Michael stole a lot of stuff. He stole a lot of songs. [Donna Summer's] "State of Independence" and "Billie Jean." The notes don't lie, man. He was as Machiavellian as they come.

How so?Greedy, man. Greedy. "Don't Stop 'Til You Get Enough" — Greg Phillinganes wrote the c section. Michael should've given him 10 percent of the song. Wouldn't do it.